Visitor Information
In our news
New in the Museum Shop—Cheese Straws from Salem Kitchen and Sherd Pendants
New in the Museum Shop—Cheese Straws from Salem Kitchen and Sherd Pendants!
The cheese straws from Salem Kitchen come in 1/2 pound and 1 pound eco-friendly Kraft gift boxes and sell for $.75 and $16.25. Recently featured in Garden & Gun Magazine's holiday gift guide and advertised as "best in the south," they are sealed in an inner bag. Ingredients are cheese, flour, salt, and real butter—no artificial ingredients. Sorry, they cannot be shipped and are available only in the store.
The gorgeous sherd pendants are made from 100 to 300 year-old pottery sherds and sterling silver. The largest are $58 and we have a few at $48. They are one-of-a-kind, and individual ones are subject to prior sale. Perfect for the lady who loves jewelry (and who doesn't?) and history!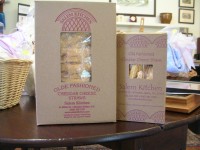 Salem Kitchen Cheese Straws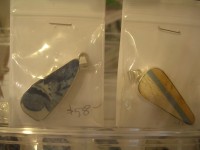 Sherd Pendants
Back to News Listing