Visitor Information
In our news
Welcome to Y Guides and Princesses!
How, How! Patches have arrived in the gift shop. We think you are really going to like them. They sell for $3.50 each. If your group numbers more than 15, please call ahead to schedule your tour. Tours are available on Saturday afternoons at 1, 2, or 3 pm. Please allow about an hour for your visit. If you would like to come on Sunday afternoon, please call or click on contact to make an appointment.
We offer special tours of 30 to 45 minutes in length for guides and princesses. After the tour, we will provide about 15 minutes of hands-on history for you and the children. Everyone will have the opportunity to touch and explore reproductions of 18th-century artifacts. It will be a fun-filled and educational experience for all ages. Afterwards, come back to the gift shop to purchase your patch. Admission fees are: adults, $5.00; students $3.00; children under 6 free.
After your visit, plan to visit a nearby restaurant for a treat. We hear that Char-Grill on Hillsborough Street has great milkshakes!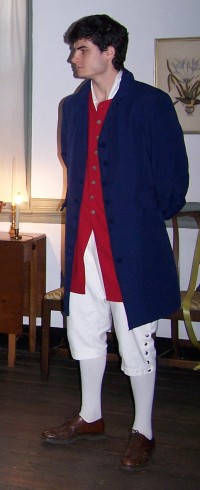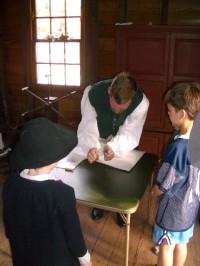 Hands-On History: Using a Flint & Steel
Back to News Listing