Visitor Information
Bring History to Life by Making a Donation!
Joel Lane Museum House, Inc. is reliant on individual support.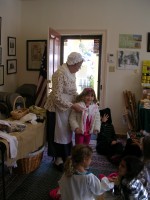 Docent assists child.
You can make a difference by helping us to teach American history. The stories of Joel Lane, his family, and the enslaved families who lived here are true American stories. Your contribution allows the Joel Lane Museum House to tell those stories.
Monetary donations are vital to telling these stories at the Joel Lane Museum House. We are not owned by federal, state, county, or city governments but by the National Society of Colonial Dames of America in the State of North Carolina..
Your $50 gift allows us to take Hands-On History to a low income school.
$100 funds a lady's costume top for the docents.
$350 funds one month of garden maintenance.
A gift of any amount supports educational programs, from guided tours to on-site and off-site presentations by volunteers and staff. It also contributes to the sustainability of the buildings and collection which are keys to interpreting our nation's rich history for thousands of children and adults each year.
We gladly accept donations through the mail by check to PO Box 10884, Raleigh NC 27605, by Visa or MasterCard credit cards by phone at 919-833-3431 (a 1% card-not-present convenience fee will be added), or you can click on the Paypal link below and use your credit card. A Paypal account is not required.
Joel Lane Museum House, Inc. is a 501(3) non-profit corporation. Donations are tax deductible to the extent allowed by law.
Financial information about this organization and a copy of its license are available from the State Solicitation Licensing Branch at 888-830-4989. This license is not an endorsement by the State.