Joel Lane's Home
Joel Lane built his home in 1769. In 1970, the State of NC Department of Archives and History certified that "the Joel Lane House has been entered on the National Register of Historic Places."
AWARDS
The house was restored in the 1970s to its circa 1793-94 appearance. In 1976, the Historic Preservation Society of NC awarded the Ruth Coltrane Cannon Cup for "outstanding and significant achievements in the field of historic preservation, restoration, and/or research in NC" to the Wake County Committee of the National Society of Colonial Dames in the State of NC for "their dedicated and tireless effort in the restoration of the Joel Lane House."
The NC Chapter of the American Institute of Architects presented the Historic Preservation and Restoration Award to the Joel Lane House, the National Society of Colonial Dames of America in the State of NC, Dodge & Beckwith, Restoration Architects, and Cameron Construction, General Contractor.
On July 15,1976, the Wake County American Revolution Bicentennial Commission awarded the Joel Lane House a Certificate of Appreciation for its "Outstanding Participation in the Bicentennial Year of our Country."
The Joel Lane Museum House gardens received the Sir Walter Raleigh Award for Community Appearance presented by the City of Raleigh "for Outstanding Contribution toward Enhancing the Beauty of the City of Raleigh."
In 1997, the Joel Lane House was awarded a certificate of accreditation by the National Society of Colonial Dames of America.
In 2009, the Joel Lane House was awarded an honorable mention for Best Historic Site by Metro Magazine Bravo Awards. The winners included much larger sites, such as Mordecai Historic Park, The Biltmore House in Asheville, and Tryon Palace and Gardens in New Bern. Count us proud!
CONFIGURATION
Originally, the front porch ran the entire length of the building, and the roof line was a simple gable. Joel Lane remodeled the house in about 1793-94 to enlarge the second story. Though it seems a small house by today's standards, it was considered quite grand in the 18th century in the rural place that became Wake County in 1771.
Here is a set of plans drawn in 1934 and posted to the Historic American Buildings Survey web site.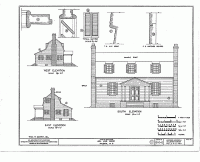 Front (south), east, and west elevations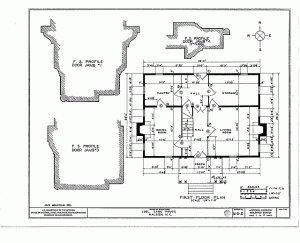 First floor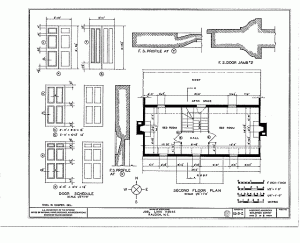 Second floor
This set was made in 1952 and shows the circa 1840 wing that was removed during the restoration of the 1970s.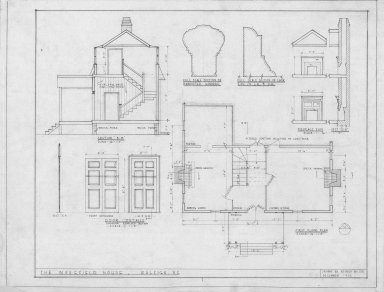 Cross section of the building and first floor plan with the c. 1840 wing attached at the rear of the building.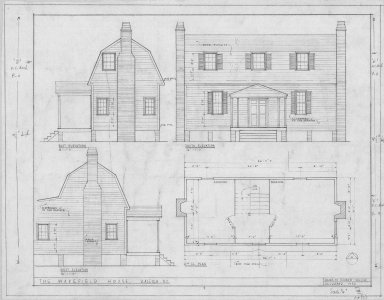 Elevations from the east, west, and south sides before the restoration in the 1970s (note: the chimneys do not match the restored versions) and of the second floor plans
The 1952 plans are courtesy Reuben Miller, Preservation NC, and the NCSU Libraries.