Visitor Information
NEW PARKING INFO! Joel Lane Museum House 250th Anniversary Celebration!
New Parking Information!
Parking is available in two main areas: a larger lot located off of Washington Street and a smaller lot located off of Clay Street. We recommend the lot on Washington Street. There is a small lot off of Clay Street, but we hope to reserve that for those who have difficulty walking.
The official Borden Building address, at 820 Clay Street, leads Google Maps and most other GPS systems to that Clay Street parking lot, labeled "1" below. The Washington Street lot ("2") entrance is nearest to 880 Washington Street, Raleigh, on the south side of the street. From there it is a short, pleasant stroll to the Borden Building, pictured in the square below.
Curbside parking is also available along Washington. Because Broughton High School is having its open house tomorrow evening also, parking may be more difficult than usual. You may want to consider carpooling or Uber. Thank you. We look forward to seeing you tomorrow evening, as we raise a glass to the Father of Raleigh!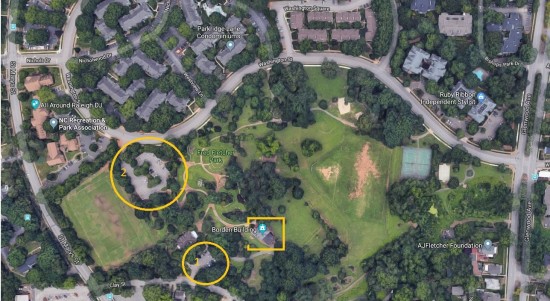 ***
Please join us as we continue our celebration of the Joel Lane Museum House's 250th Anniversary, and raise a glass to Colonel Joel Lane, the Father of Raleigh!
Libations and light fare provided.
Event: Joel Lane Museum House 250th Anniversary Celebration
Time: Tuesday, September 10, 2019, 6:30-8:30 pm.
Location: the Borden Building at Fletcher Park, 820 Clay Street, Raleigh
Admission: $50, available through the Joel Lane Museum House or at Eventbrite.com
Please contact the Joel Lane Museum House with the names of those who will attend. Nametags will serve as tickets. Please RSVP no later than August 30, 2019.
Contact Information: tel: (919) 833-3431; email: .(JavaScript must be enabled to view this email address)
In lieu of seeking sponsorships for this celebratory event, we ask that you consider a donation toward the Joel Lane Museum House paint project. JLMH must replace the exterior paint on our historic structures this year. Failing paint has already begun to damage the wood of the Lane House: this is a preservation emergency. Please give generously, because we cannot do this without your support.
previous
next
Back to Events Listing