Visitor Information
In our news
Holiday Fundraiser Wreath Sales
Doughton Mountain Tree Farms partnered with us in a fundraiser this holiday season. They will donate the proceeds from wreath sales to the JLMH!
We offered three wreath sizes: 14" to 16" in diameter Fraser Fir wreath was $14.00; 22" to 24" Fraser Fir was $28.50; and 28" to 30" Mixed Greens (Fraser fir, pine, and boxwood) was $35. To place your order, call the office at 919-833 3431 or click here to download an order form: Wreath_ORDER_FORM_2012.10_.18_.doc
Wreaths arrived freshly cut from the NC mountains by December 1 and were be available for pickup that day at the Visitors Center.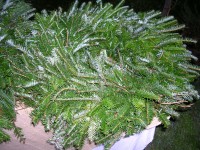 Back to News Listing